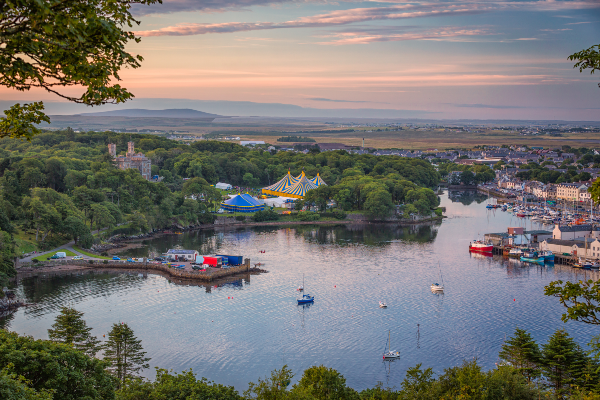 HebCelt means many different things to each and everyone who has engaged with her since its very early days. For me it has been a way of life for the last 25, sorry 28 years, since June 1995 in any case, however long ago that is. I was a young mother back when I met Fiona and the notion was created. Since then the rolling stone of the nucleus of this force of nature has gathered together so many people, some who have fallen by the wayside, and so many more who have managed to cling on for the ride.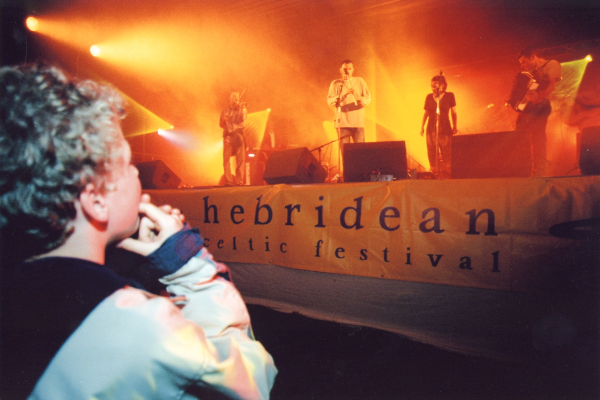 [Pic. the Early years]
I like to think of the festival as one of the children (sorry kids): there were the early days when it wouldn't let you sleep at night and you worried if it would ever learn to walk on its own. Then came the teenage years where there were some terrible tantrums and you wanted to just walk away and hide from it all. The high point in these early years was the huge growth trajectory (25% year on year) - the growing sense that this was a huge magnet that was drawing people from all across the world and that trend continued strongly until 2008. The economy was very buoyant and the kid could do no wrong. The following year, however, the economy collapsed and as an event, we plunged to a depth I didn't think we'd recover from. To be brutally honest, if it hadn't been for the Herculean effort put in by Murdo Maclennan, then technical director, who pulled out all the stops to produce some amazing TV programmes for BBC Alba which plugged a financial gap, we may not have done so.
The next year again was a 'Runrig year', one which always skewed the overall trend. Rightly so as the band drew a huge audience who really turned up for them whenever we were fortunate to be able to programme them. The other side of that was the expectation that this would happen relentlessly. That was in nobody's best interests, particularly Runrig's, so through the intervening years and largely because of the scale of the event, it became more challenging to sell consistently.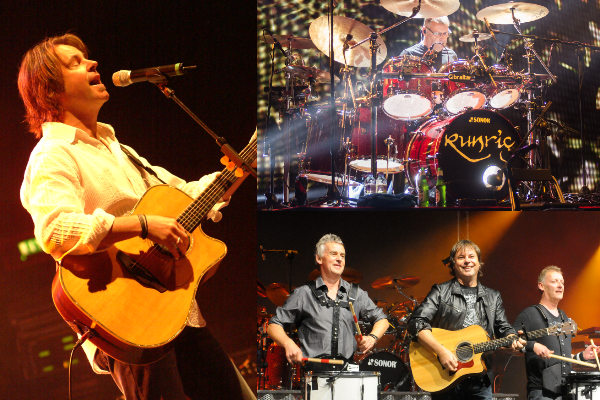 [Pic. Runrig at HebCelt through the years]
Of course there were the other challenges: being told we were the 'disgrace of the island' as the bar failed to deliver pints on time (yes I see that person around town from time to time), ferry failures which left audiences stranded in Ullapool, weather or other such disasters that delayed site works so the guys had to pull an all-nighter to get the show on, or that left the castle green virtually unusable with water appearing in places water never had appeared, ever. The show must go on, and each and every challenge has been met with a positive response from the team and those who support us both individually, or as companies and local businesses.
I believe the event truly came into its own in the late teen years, with the gradual introduction of more stages and longer opening times, and the growing appeal for families of all ages. This hugely healthy family appeal of the festival is so important to us all at HebCelt HQ. The heart-warming sight of the very young kiddies seeing live music for the first time at our free family concerts, or all the buggies on the green with wee ones with ice creams in their hands, enjoying the circus for the first time, dropping into the art tent, or catching the storytelling sessions in the kid's area.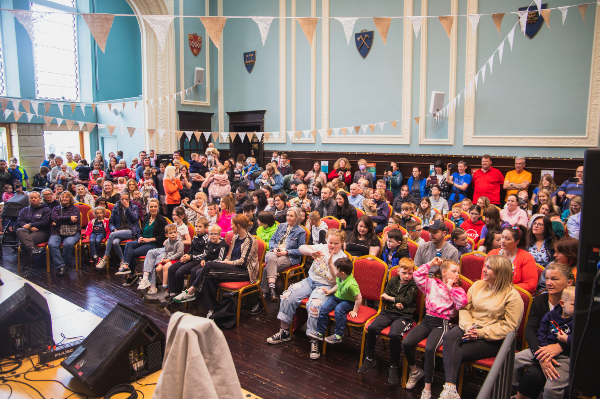 [Pic. family concert fun at HebCelt 2022]
Through the addition of other stages, the opportunity to strengthen the artistic offering across the range, from solo performers to big named bands, has really grown the audience base. How many times have we heard the call that 'so and so' should be on the mainstage? It was programmed deliberately to have that reaction. A sign that a show has been a huge success and that the audience really connected with a performer.
Inevitably, this second teenage growth spurt put an undeniable burden on the team which was fabulously met by the expansion of our volunteer team - we recognise that this is one of our biggest challenges. Doing something you don't regularly is a mammoth management task spanning from board level through to our regular team leaders and cascading across all volunteer areas. To monetise that huge effort would put the festival into the red, which is one of the main reasons we literally could not do this without our volunteer family.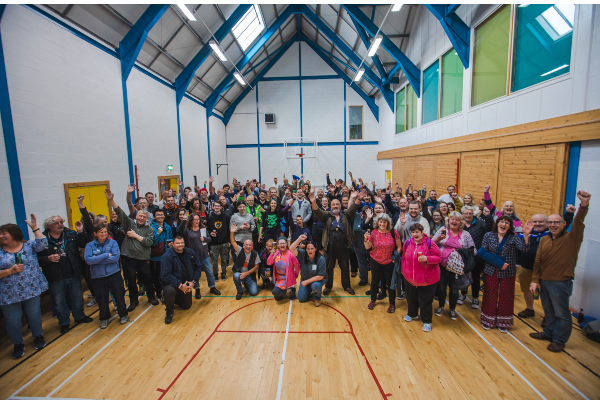 [Pic. HebCelt 2022 Volunteer team]
The support we as a team get from many industry specialists who recognise the importance of HebCelt, not only to our local artistic community, but to that of a global creative community can never be underestimated I have programmed events alongside Edinburgh's Hogmanay, have taken numerous shows to Celtic Connections and even to Festival Interceltique Lorient in Brittany, one of the biggest traditional and roots music events in Europe, presenting HebCelt and our rich cultural heritage to new international audiences. Our festival is an internationally recognised event with an enviable reputation.
For many however, HebCelt is about the people, meeting up with family, friends or long lost acquaintances, seeing people you haven't seen for years as you watch the crowds come in. The chatter of the audience is one of the most remarked aspects we hear from performers. A real noisy 'up for it crowd' which the artists really feed off, producing a tangible connection which is in fact pretty special.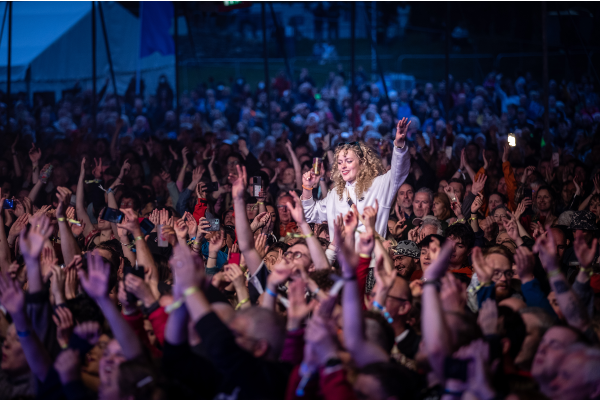 [Pic. HebCelt crowd 2022]
Which brings me to HebCelt22, and finally being able to celebrate our 25th anniversary. Following two hellish years for everyone, there was a serious amount of pent up desire to get out and be amongst our tribe; of gathering and coming together. This of course means very different things to everyone. For me it was about working again with all my festival family who make this event so special. Sure we had some shaky moments, we may even have had the odd sharp word, but we all forgive each other as it's not about one person, it's about what can be achieved collectively. And boy did we! Record attendances, highest grossing festival in history, best experience created (if feedback we received can be relied upon) and I just had a thoroughly good time. My stars aligned and it just felt so good.
Now the kid has grown up and is about to leave home. Might even have kids of its own one day, who knows. It's something all parents have at the back of their minds. Creating and producing the festival annually takes an immense mental and physical toll on me, as it does the rest of the team, and I recognised in 2019 I no longer had the stamina required. Since then the pandemic blew the last of the stuffing out of me, but these weird couple of years did not hold the kid back, and neither will I as I watch from the distance beside Martin, Murdo and others who have let go with a growing sense of pleasure and pride, and HUGE admiration for the amazing family that will help HebCelt through the next phase of her life.
Enjoy the ride guys, I certainly did, mostly…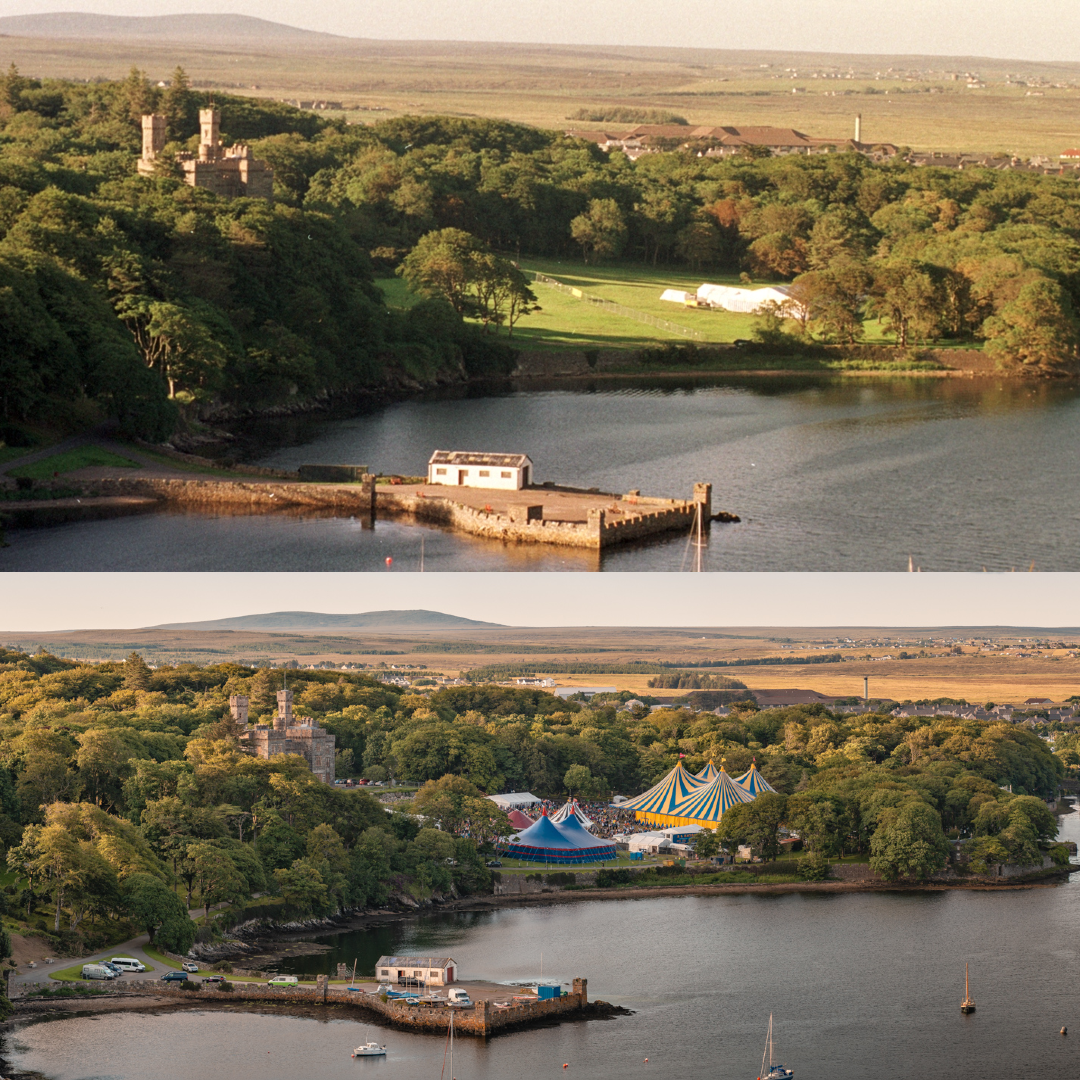 [Pic. From little acorns, Festival site circa 1997(above) Vs. circa 2017 (below)]