We're beyond excited to bring you news of our second wave of artists for HebCelt 2023, including local superstars Peat and Diesel and festival favourites Skerryvore who have joined Scottish duo The Proclaimers as part of the headliner roster. The exciting additions to this year's line-up will join an eclectic array of previously announced artists, including multi award-winning power trio Talisk and celtic fusion outfit Niteworks.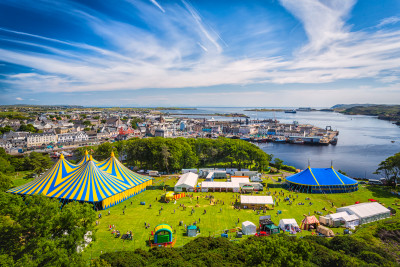 HebCelt Festival Site from Lews Castle
Having formed at local Saturday Sessions in Stornoway, the Leodhsaich trio Peat and Diesel stormed HebCelt in 2019 when organisers quickly realised that the smaller acoustic stage wasn't going to cut it for the number of fans that the band had garnered since forming. A main stage slot was quickly secured - welcoming one of the biggest crowds an afternoon performance had ever seen. The festival welcomes them back in 2023 to headline their Friday night.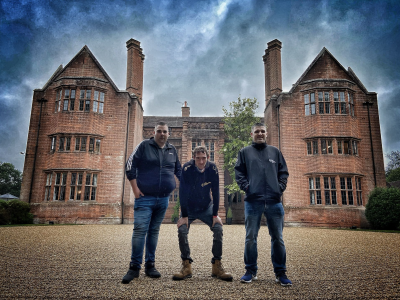 Peat and Diesel will headline Friday night at HebCelt 2023
Peat and Diesel's Boydie, Innes and Uilly said: "It felt right, amongst all the mayhem of a busy 2023 festival season for Peat and Diesel that we came home and gave you a Friday night to remember in front of the castle green in Stornoway, we're thrilled to be headlining HebCelt 2023 and can't wait to see you all there!"
After recently enjoying another Radio 2 airplay slot for their latest single 'Everything you Need', Skerryvore will showcase why they're two time winners of Live Act of the Year at the MG Alba Scots Trad Music Awards when they perform as Saturday night's headliners. Their unique fusion of folk, trad, rock and pop firmly places them as one of the country's most-loved bands.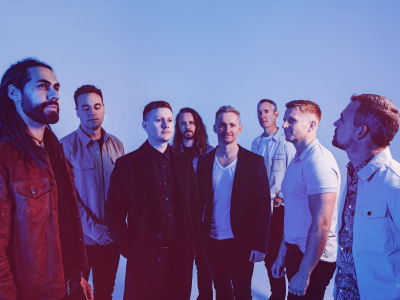 Skerryvore will close out Thursday night on the HebCelt main stage
Sharon Corr, a founding member of one of Ireland's most successful bands The Corrs, will join this year's line-up. Having formed The Corrs in the early nineties the family band went on to release hits such as 'Runaway', 'Breathless' and their cover of Fleetwood Mac's 'Dreams'. The hugely talented fiddle player will perform her solo material alongside some of The Corrs' most-recognised hits with her band on the main stage on Friday 14th July.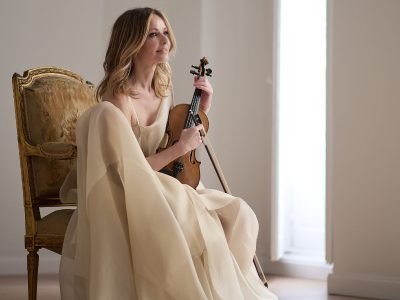 Sharon Corr performs Friday 14th on the HebCelt mainstage
The weekend festival will welcome more than 35 artists to perform across its three stages. The master musician N'famady Kouyaté, who hails from Guinea (Conakry), will amaze the island audiences with his modern interpretations of traditional West African Mandingue songs and rhythm played on his primary instrument, the balafon – a traditional wooden xylophone, sacred to West African culture and his family heritage of the griot/djeli.
Friday will also welcome Canada's high-energy roots quartet Gordie MacKeeman and his Rhythm Boys who will showcase everything from down-home country to reckless rockabilly to intricate bluegrass. Also joining the Friday bill are rising star singer-songwriters Abigail Pryde and Lewis McLaughlin.
On Saturday, the energy-fuelled traditional band Heron Valley will open the Main Stage, while Orkney's The Chair will perform their famously raucous set on the Islands Stage. Welsh folk singer Gwilym Bowen Rhys and multi-instrumentalist Malin Lewis will also perform on the Acoustic Stage.
Recently crowned Event of the Year for the third time at the MG Alba Scots Trad Music Awards and taking place between 12th and 15th July 2023 at the iconic Stornoway harbourside location, under the shadow of Lews Castle, weekend tickets for HebCelt are available now.
The festival will also see the return of its jam-packed fringe programme, bringing activities for all the family to the streets and venues of Stornoway.
Local audiences and fans from across the globe are expected to flock to the event which generated a £4.2 million boost to the Lewis economy this year and saw early bird tickets sell out in record time.
HebCelt Festival Director, Graham MacCallum, said: "We are delighted to be announcing this second wave of fantastic artists to be added to the already brilliant line-up. It will be amazing to have local boys Peat and Diesel here to headline our Friday night and Skerryvore are always firm festival favourites so they are sure to close Thursday night in extraordinary style. The weekend is gearing up to be incredible and I can't wait to welcome everyone to the castle green this summer."